Looking for a luxurious getaway this summer?
Explore our unique collection of sunset view villas in Mykonos that will offer you a lifetime experience!
When it is safe to travel again, there are some of our luxurious Mykonos villas you can visit to escape from the everyday routine.
It is this time of the year that you are looking forward and planning your perfect summer vacation, our team at Divine Property is always available to offer you the best villa recommendations.
Our priority is to treat all our guests like royalty!
Just relax, sit back, and enjoy the speechless sunset views from the comfort of your villa, bedroom, or living room.
Divine Property best Sunset view villas in Mykonos to visit in 2023
1.The Magnificent Villa Sunset – 9 bedroom villa Mykonos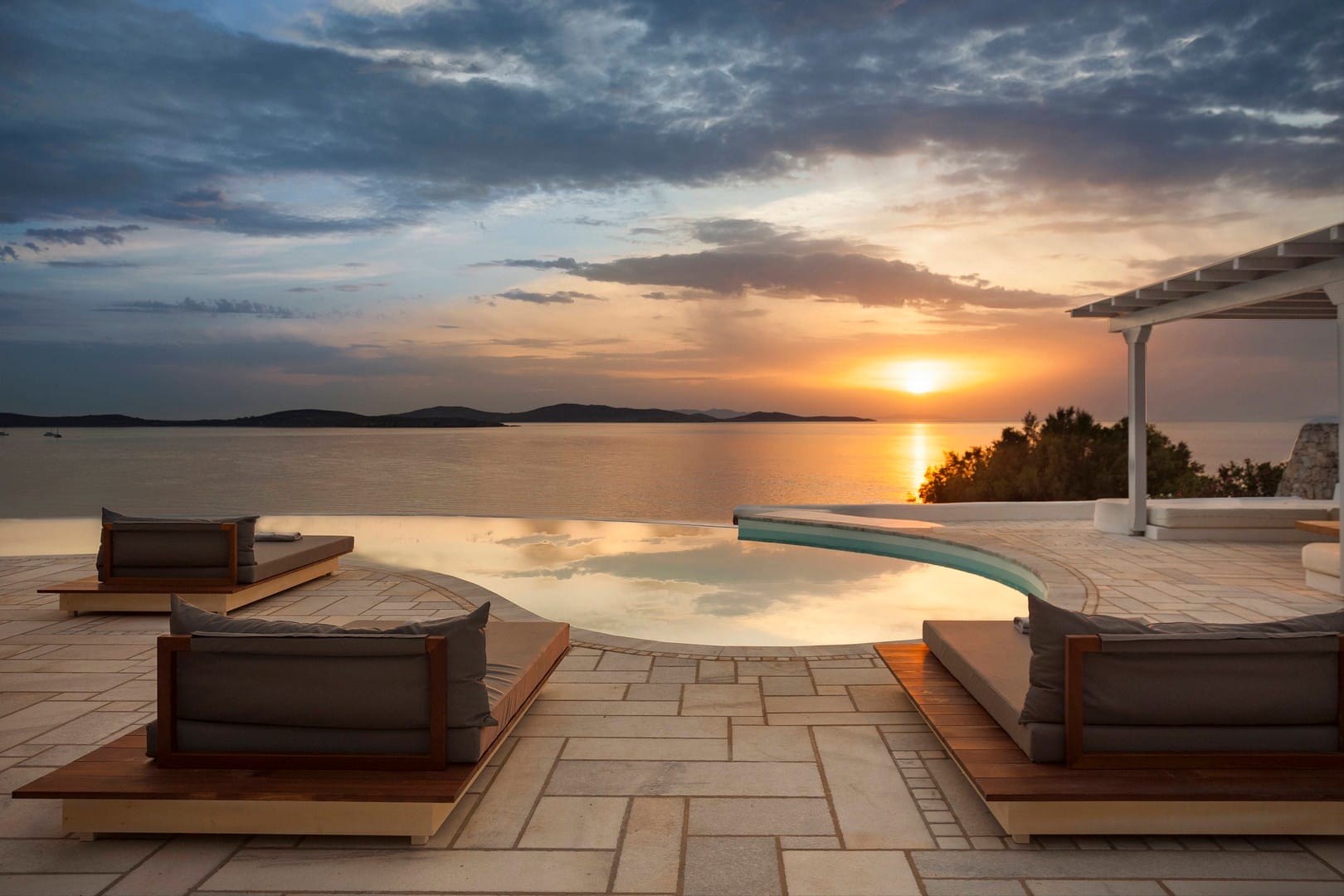 The Magnificent Villa Sunset is a marvelous waterfront property located in the prime area Aleomandra, close to Ornos, offering spacious indoor and outdoor areas. The sunset and uninterrupted sea views through the floor-to-ceiling windows featured in the comfortable living room area are very beautiful. The exotic scenery along with the attentive and personalized services offered are definitely worth experiencing.
2. Villa Athena – 5 bedroom Villa Mykonos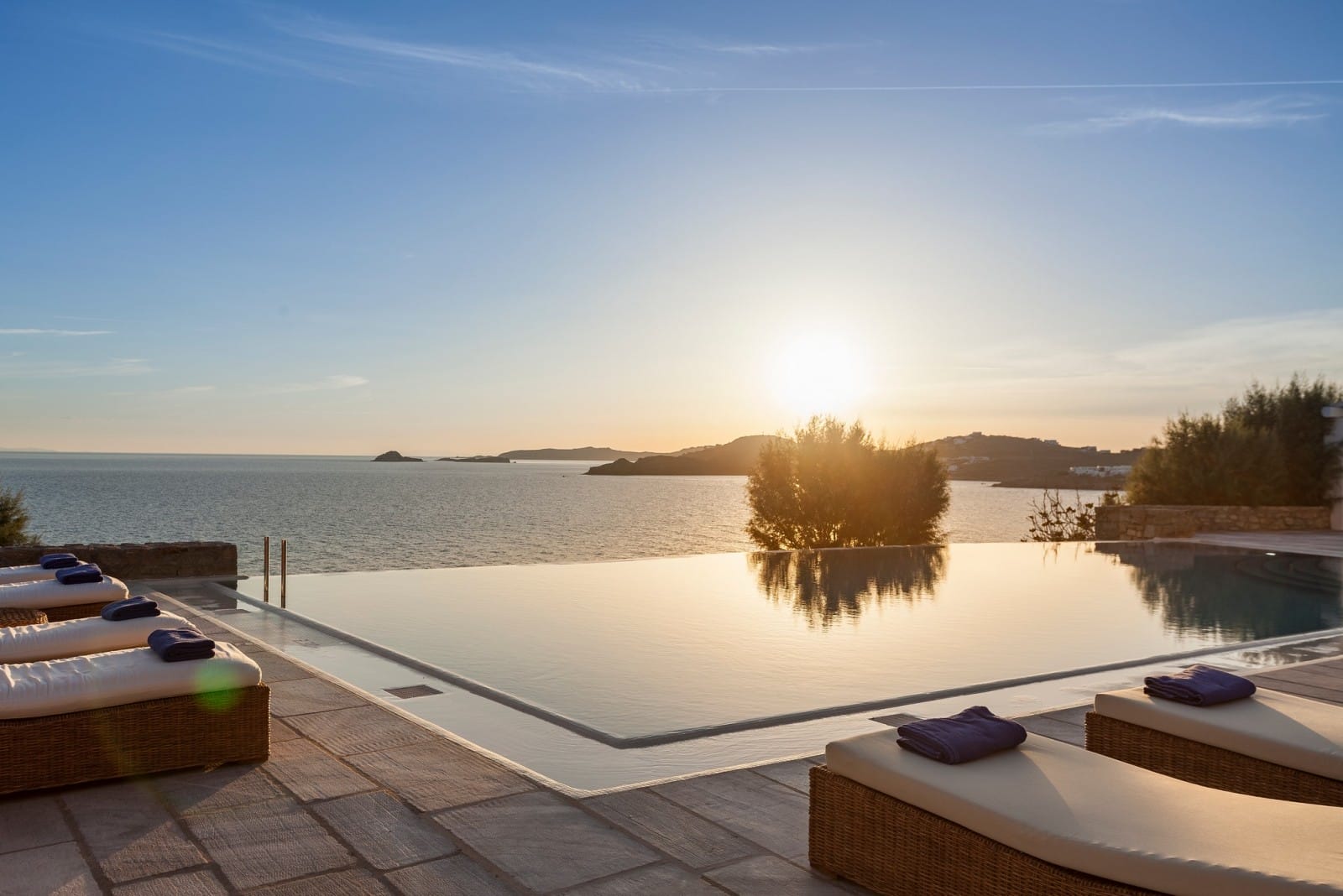 Villa Athena is a luxurious waterfront property, in Agios Lazaros, safely situated within a complex of private villas. Villa Athena combines the modern with the traditional Cycladic design, offering a very welcoming living room area, spacious bedrooms, ideal for a family or a large group of friends. The outdoor scenery is dramatically beautiful with uninterrupted sea and sunset views.
3. Villa Demeter – 5 bedroom villa Mykonos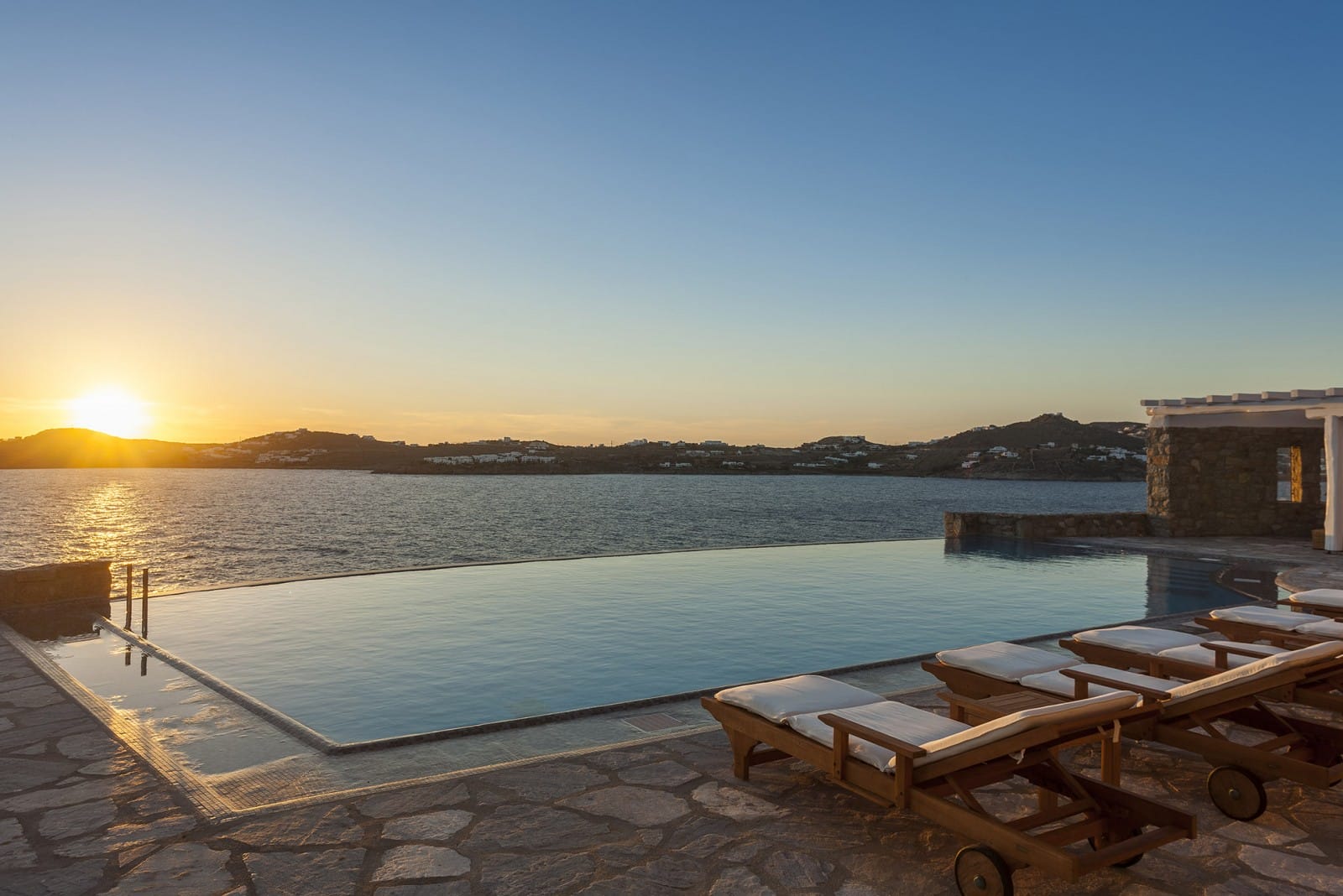 Villa Demeter is a minimal property, perched on the edge of Agios Lazaros, boasting uninterrupted sunset views, and views over the island of Delos and Rhenia. Breathtaking views from the living rooms and dining room are creating a very warm atmosphere while relaxing at the privacy of your villa. Villa Demeter is situated within a complex of luxurious villas, offering the feeling of safety and protection to its customers.
4. Villa Anemone – 6 bedroom villa Mykonos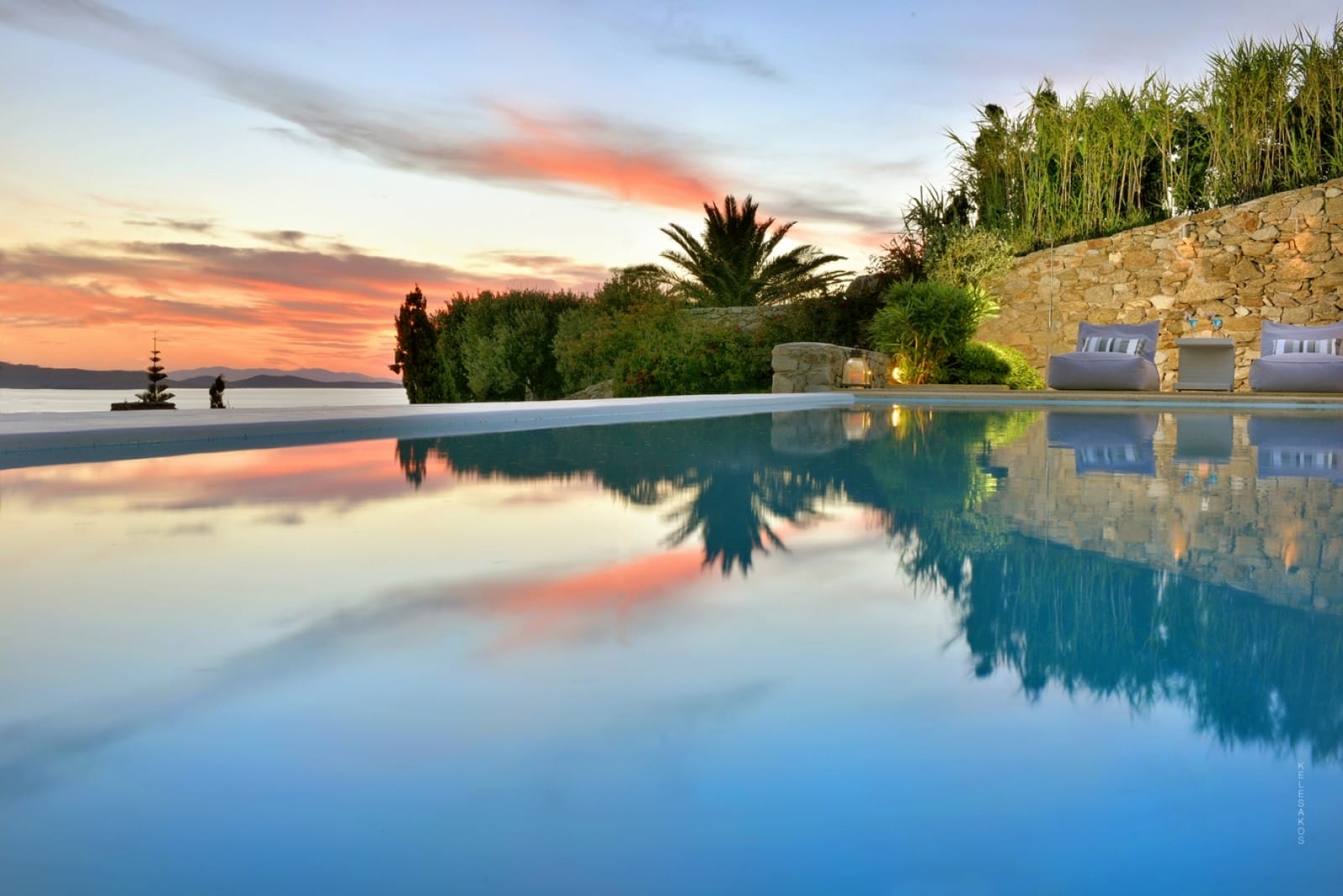 Villa Anemone is a three-story villa, conveniently located in the prime area Agios Ioannis, within a two minutes driving distance from Ornos. The private infinity pool, the comfortable sunbeds, the outdoor dining and lounge areas are great spots to enjoy beautiful moments with your family or friends.
5. Villa Aquiver – 8 bedroom villa Mykonos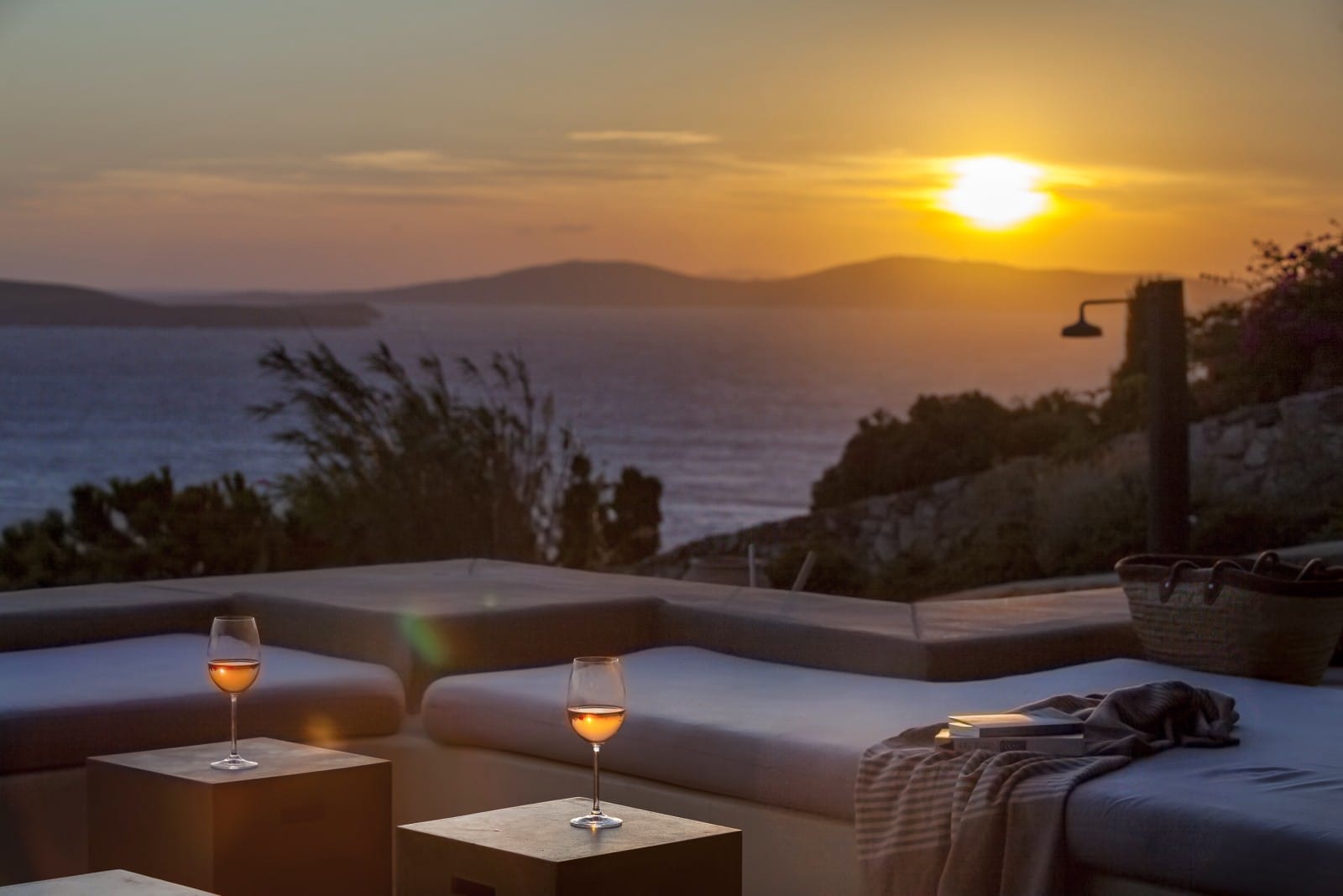 Villa Aquiver is an outstanding property offering elegant and spacious indoor and outdoor areas, located in Agios Ioannis. The large edge infinity swimming pool, the bar area, the shaded pergola featuring a large outdoor dining area offer both romantic sunset views to the west and views over the island of Paros to the south. A live-in maid will offer you very relaxing accommodation.
6. Villa Flow – 5 bedroom villa Mykonos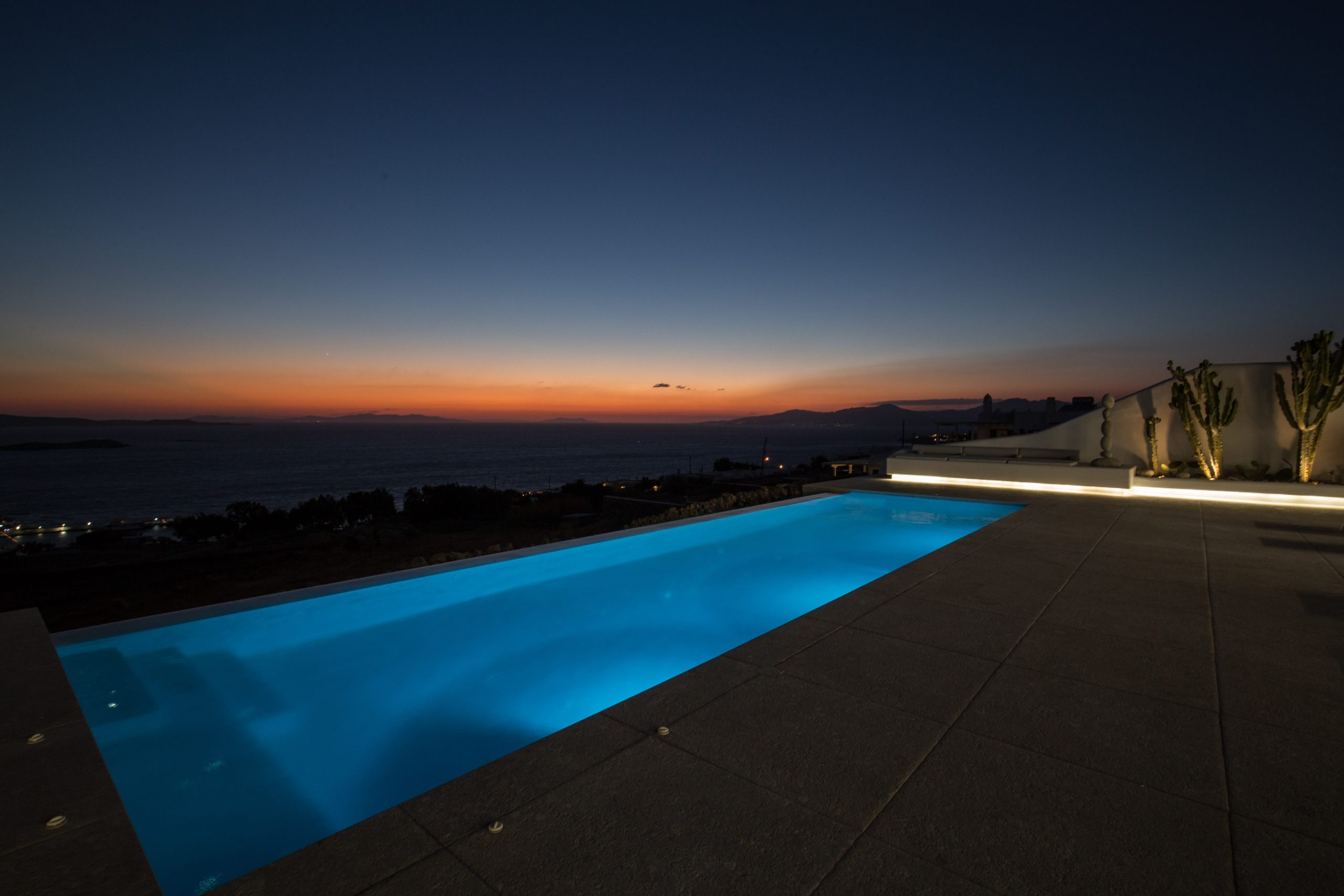 Villa Flow in Mykonos is perfectly situated above Mykonos Town (1 km away), a very modern and minimal villa offering gorgeous views over the Aegean Sea, the magnificent sunset, Mykonos town, and the famous Mykonian windmills. Villa Flow is built on two different levels, whereas each floor features a fully equipped kitchen, a living room area, allowing for privacy. Villa Flow is the ideal choice for anyone looking to be comfortably located near Mykonos Town (Chora).
7. Villa Thalassa – 5 bedroom villa Mykonos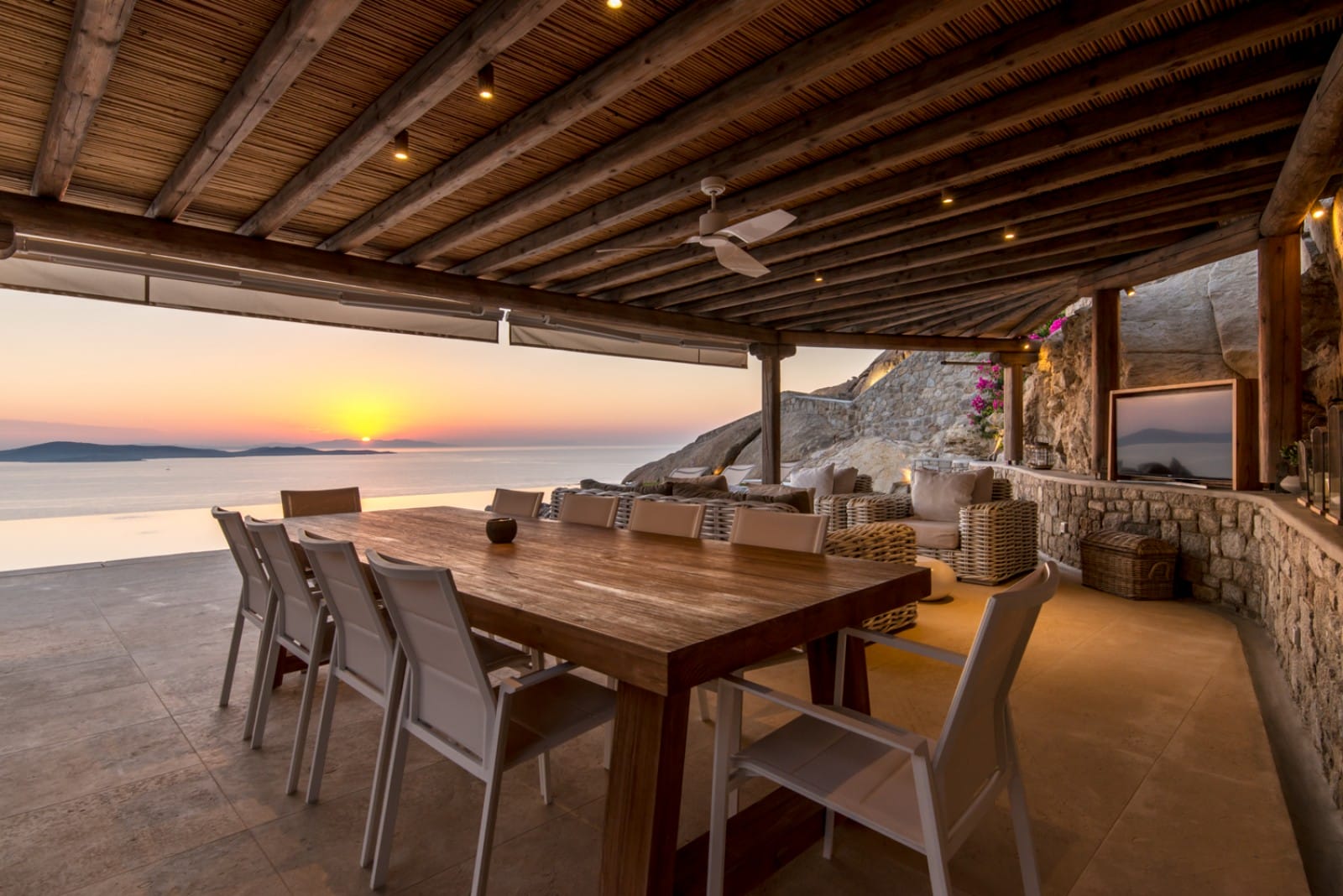 Villa Thalassa is a family and friendly villa, located in Pouli, a secluded area, offering all the luxury amenities, to ensure a comfortable experience for you and your loved ones. The live-in couple is at your disposal for several hours during the day to facilitate your stay.
8. Villa Luminous – 9 bedroom villa Mykonos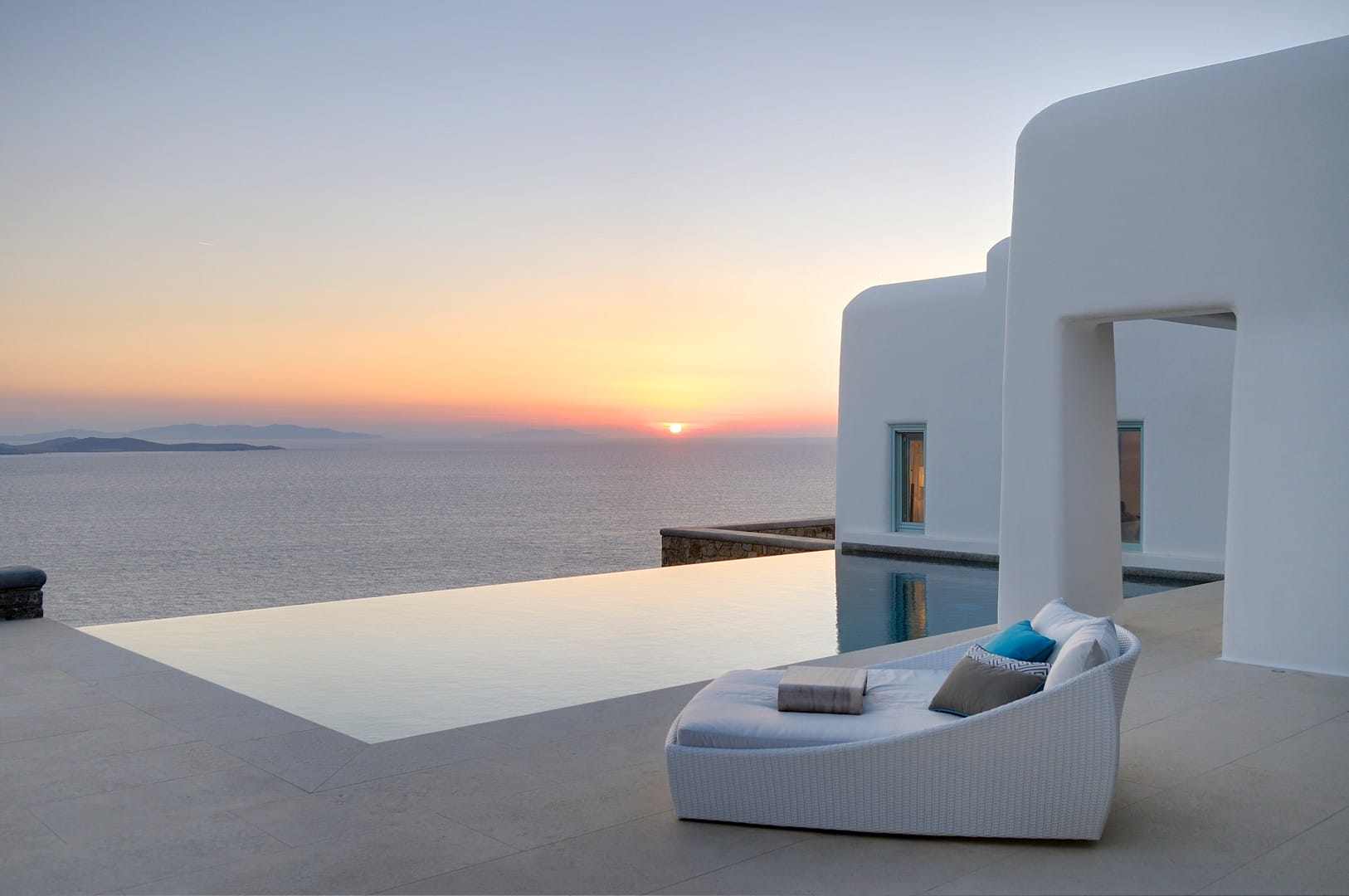 Villa Luminous is definitely the epitome of luxury, located in Pouli area, away from the hustle and bustle. The pal colors, spacious indoor and outdoor areas, modern design, the dramatically beautiful views available while you are enjoying your cocktail near the pool area, or while relaxing at the comfortable living room area. You will definitely don't' want to leave this amazing villa once you are staying.
9. Villa Blue Radiance – 7 bedroom villa Mykonos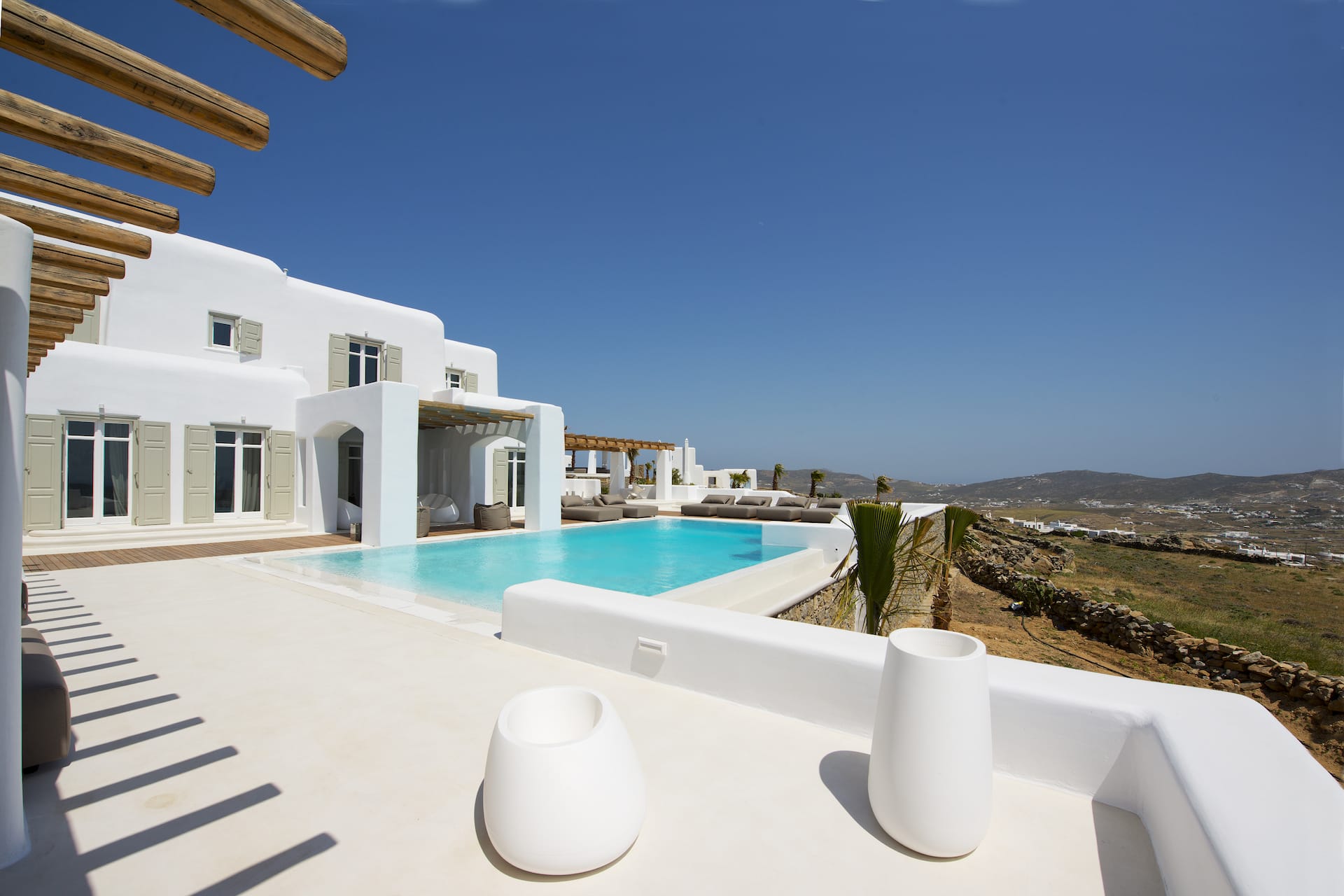 Villa Blue Radiance is a sublime property situated in the south-west area of Mykonos, called Pouli, close to Agios Ioannis beach, and Ornos beach. Villa Blue Radiance is a luxurious and modern property offering gorgeous sea views and a great sense of privacy.
10. Villa Aquamarine – 4 bedroom villa Mykonos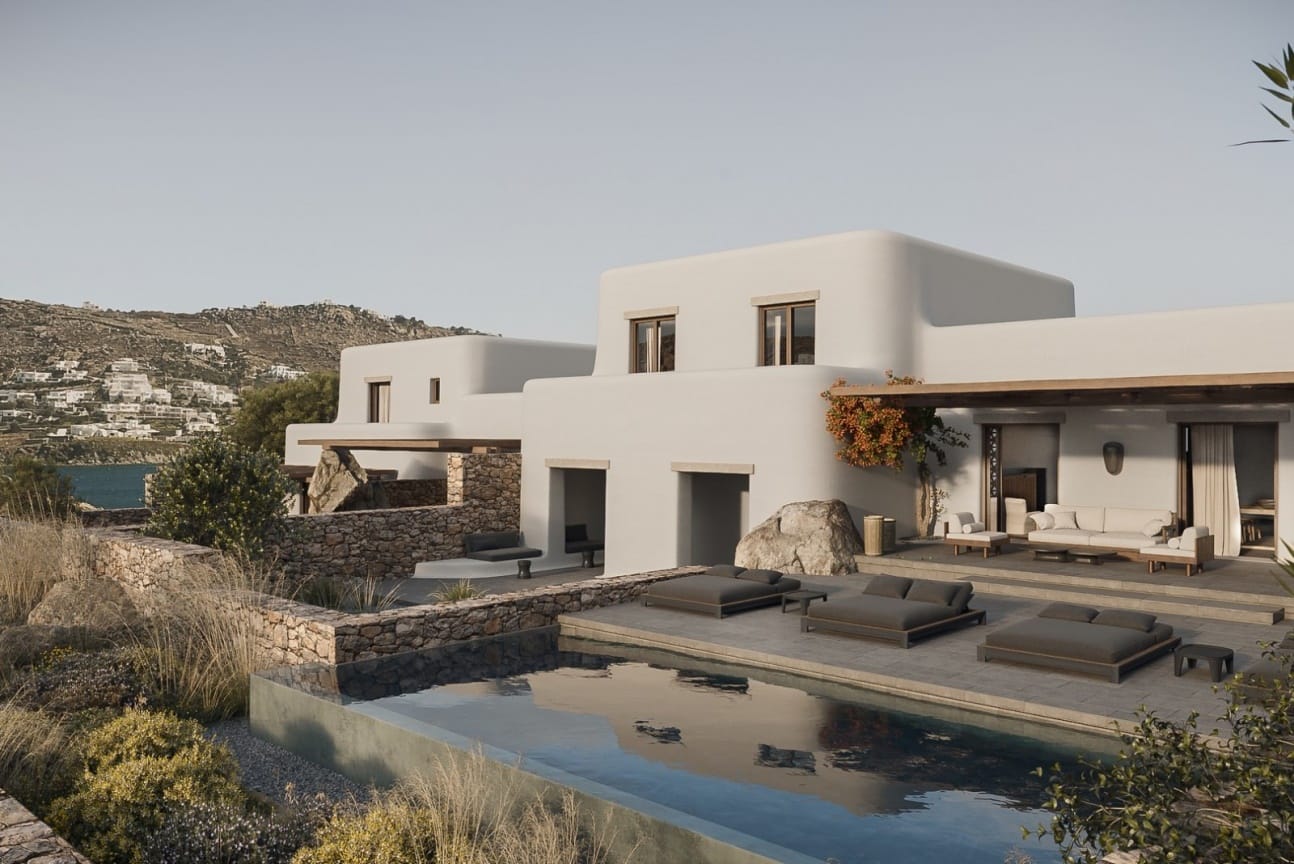 Villa Aquamarine is a brand-new luxurious property located in Ornos bay, offering gorgeous and romantic sunset views and views over the island of Delos. The magnificent Villa Aquamarine is built on the highest levels of standards to accommodate any request. The property features a spacious indoor living room area, an open plan modern and fully equipped kitchen, indoor and dining rooms, four luxurious bedrooms, a private infinity-edge heated swimming pool, a fitness area. Situated within a 5* luxurious brand-new boutique hotel.
11. Villa Epiphany – 4 bedroom villa Mykonos
Villa Epiphany is perfectly situated in Aleomandra, a very calm and peaceful area, near Ornos. Villa Epiphany is built in traditional Myconian architecture, featuring a lovely private infinity swimming pool, three luxurious en-suite bedrooms, and one individual en-suite guest house. All bedrooms feature satellite TVs, silent refrigerators, and a safety box.
12. Villa Celestial – 7 bedroom villa Mykonos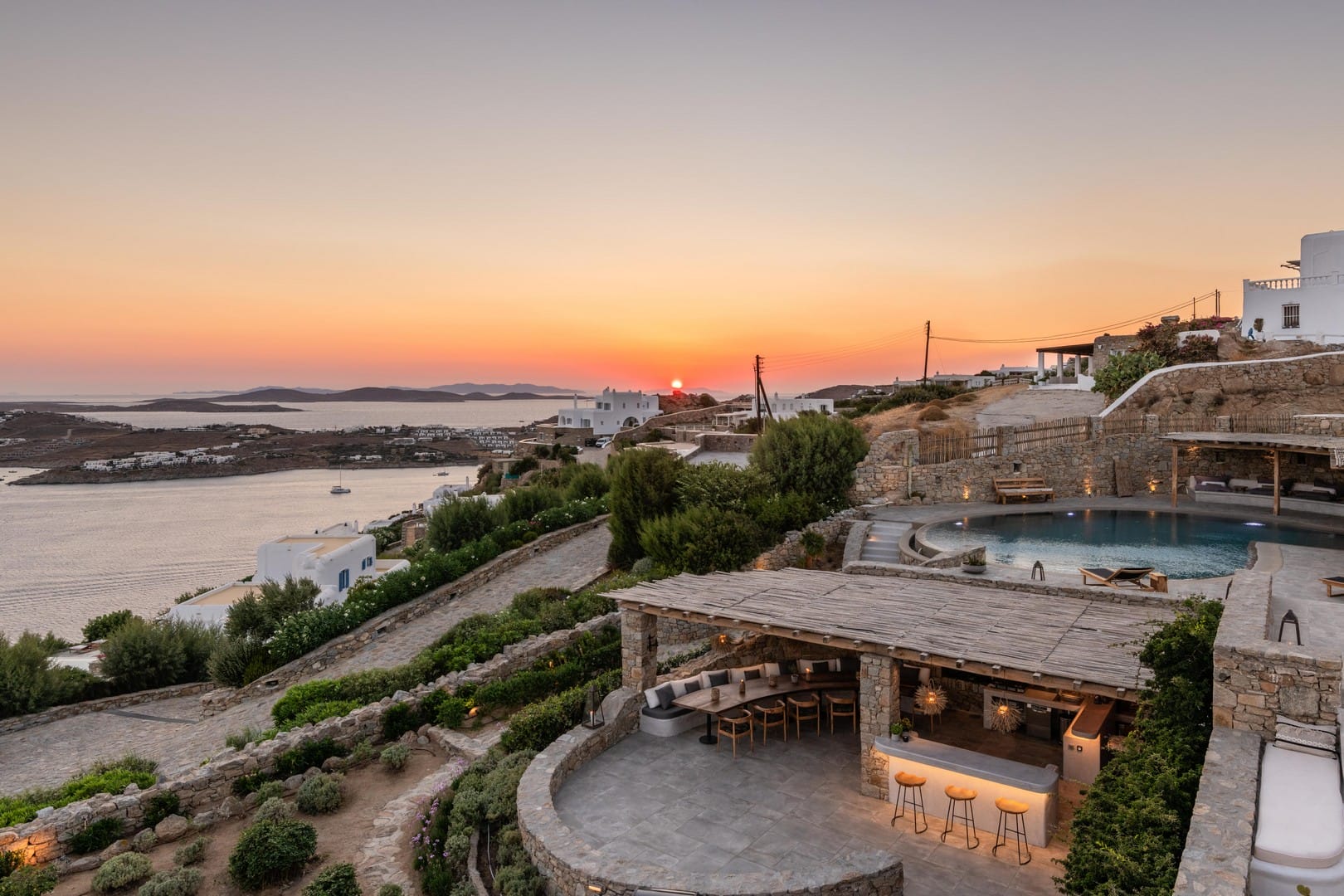 Villa Celestial is a very beautiful property, recently renovated and situated at the prestigious area Agios Lazaros. Villa Celestial features expanded outdoor areas, an outstanding private swimming pool, outdoor lounge and dining pergola covered areas, a fully equipped outdoor kitchen with BBQ, a bar area to experience wonderful moments with your family and friends.
13. Villa Exuberant – 6 bedroom villa Mykonos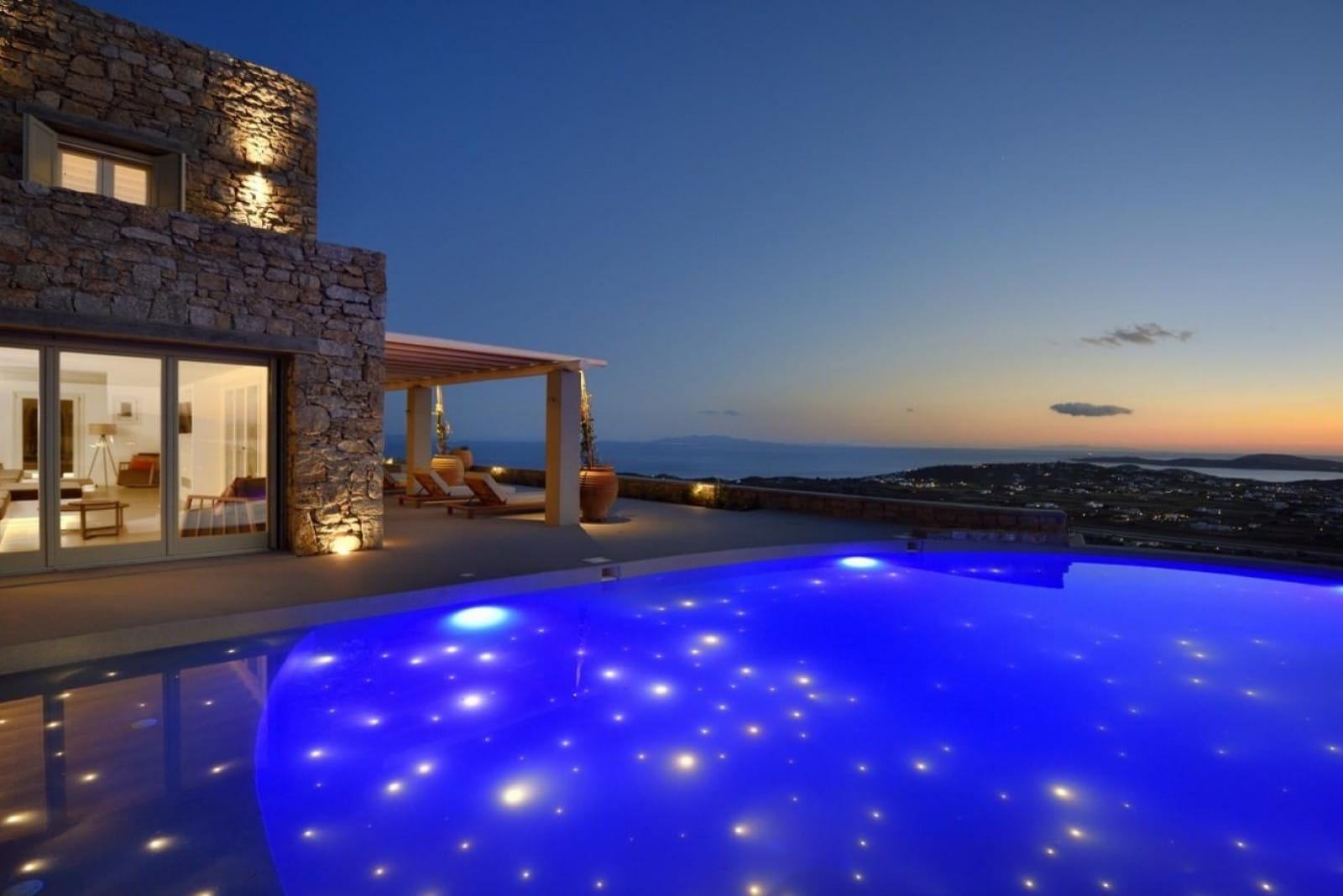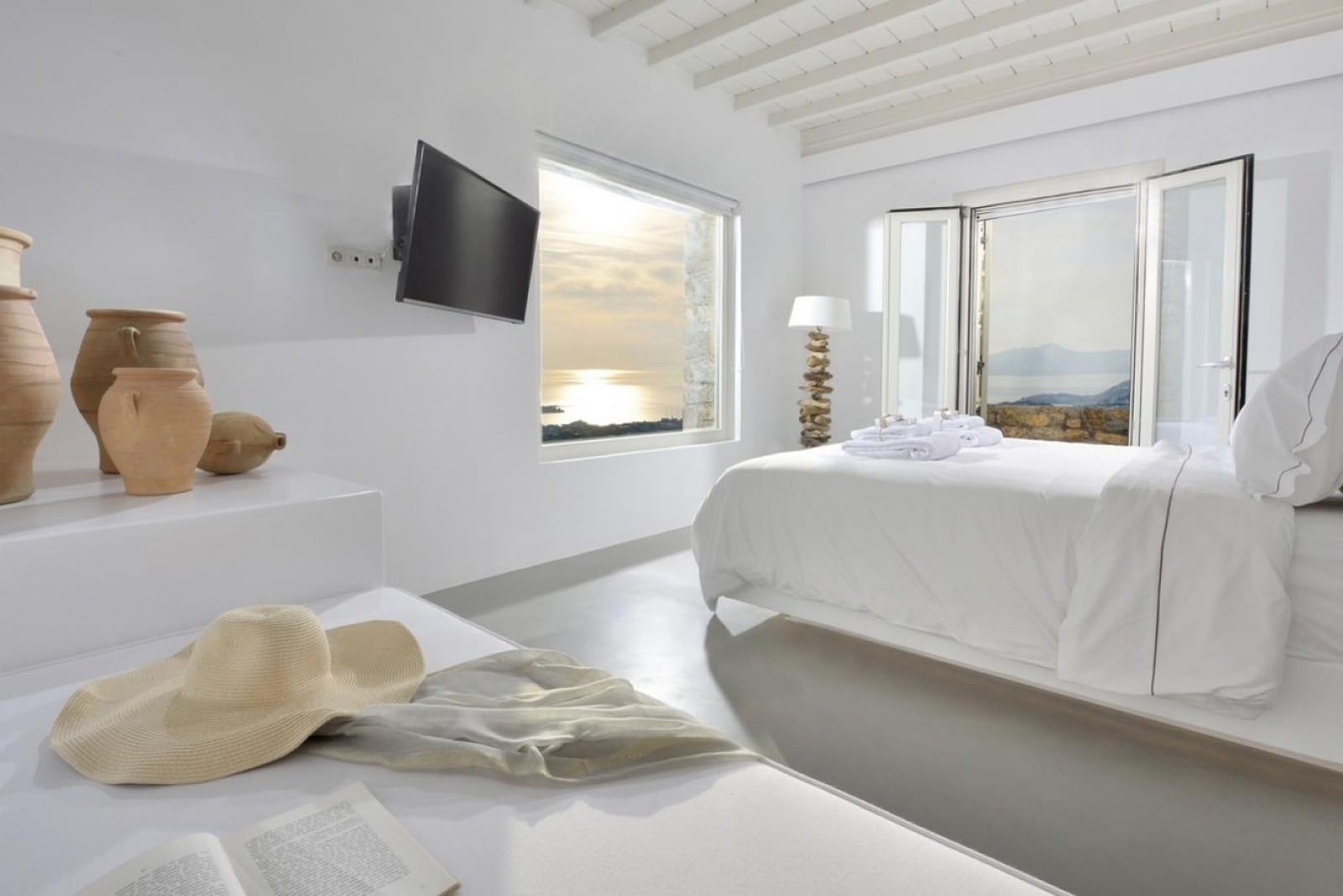 Villa Exuberant is an outstanding 6 bedroom villa, situated in Kounoupas hill. The property features an amazing private infinity swimming pool with Jacuzzi and fiber optics. Lavish indoor and outdoor areas, breathtaking sea views create an intimate feeling.
14. Villa Persephone – 7 bedroom villa Mykonos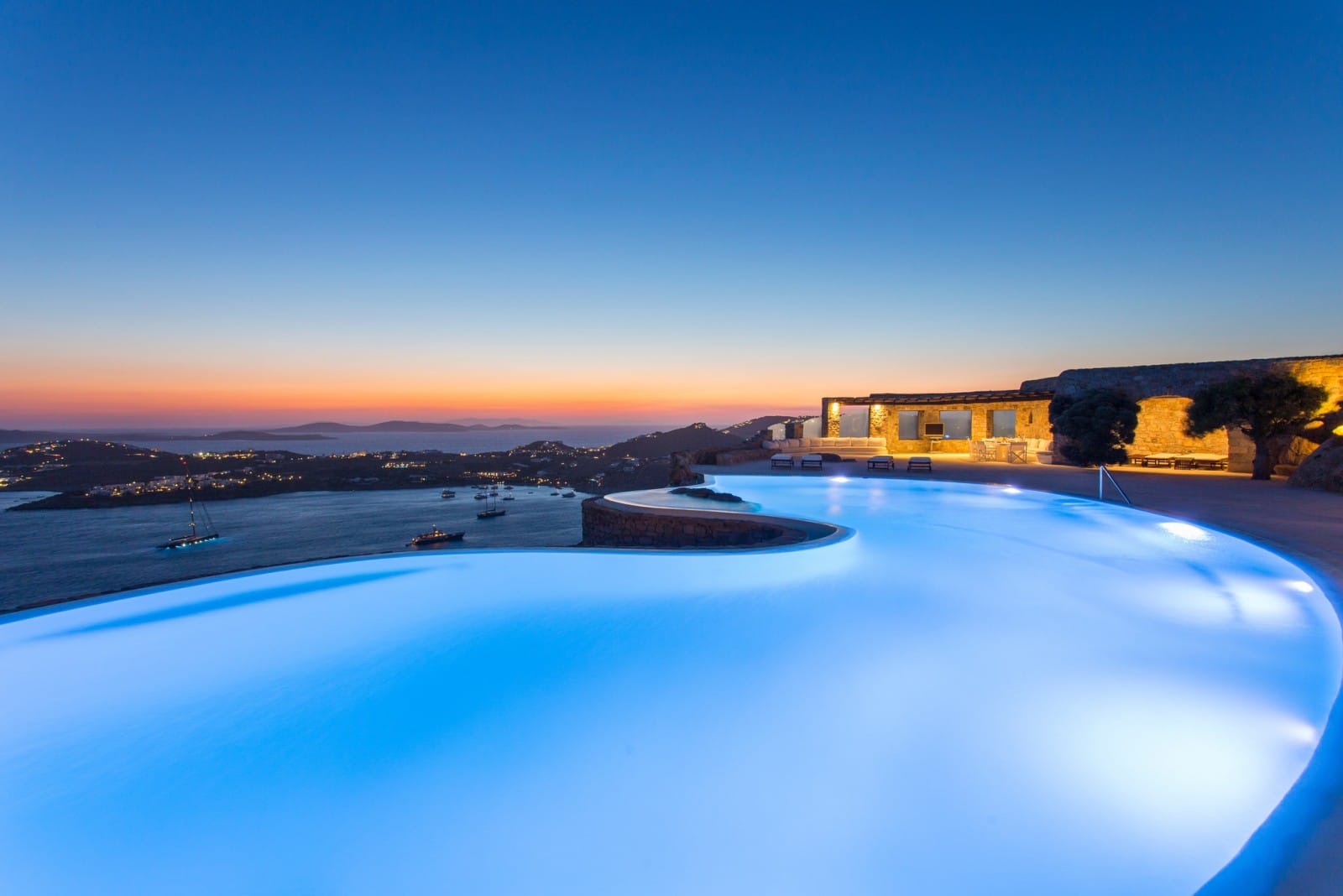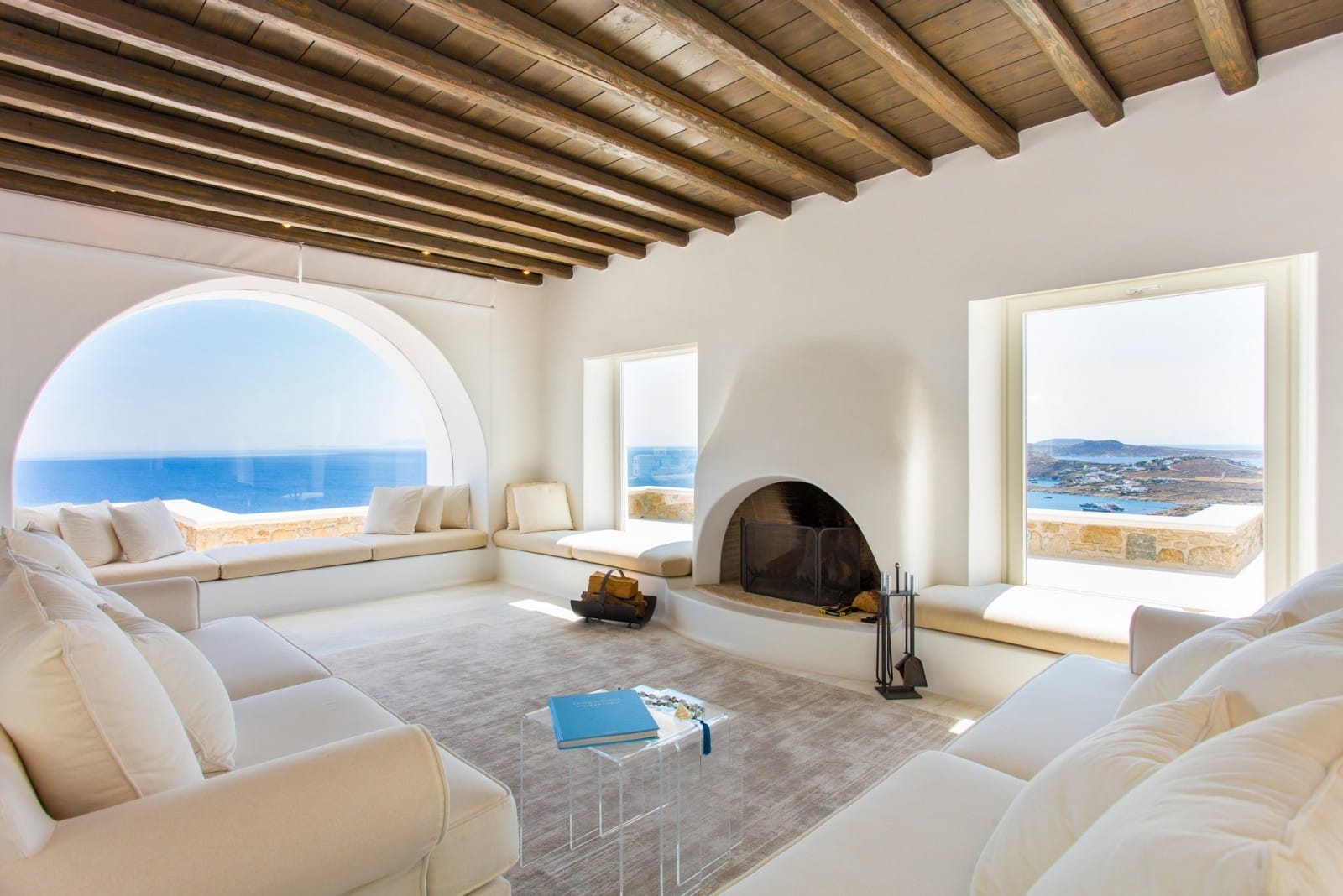 During your stay at Villa Persephone your dreams come true! Sculpted in a Cycladic rock and perched on the cliff-top edge of Agios Lazaros, this spectacular villa offers amazing views. The details make the difference, whereas the indoor area covering an area of 1000sqm with luxury furniture, the floors are beautifully dressed with white marble, handmade carpets are available, plush sofas, private terraces, artworks, cater to the highest standards.
15. Villa Noir – 7 bedroom villa Mykonos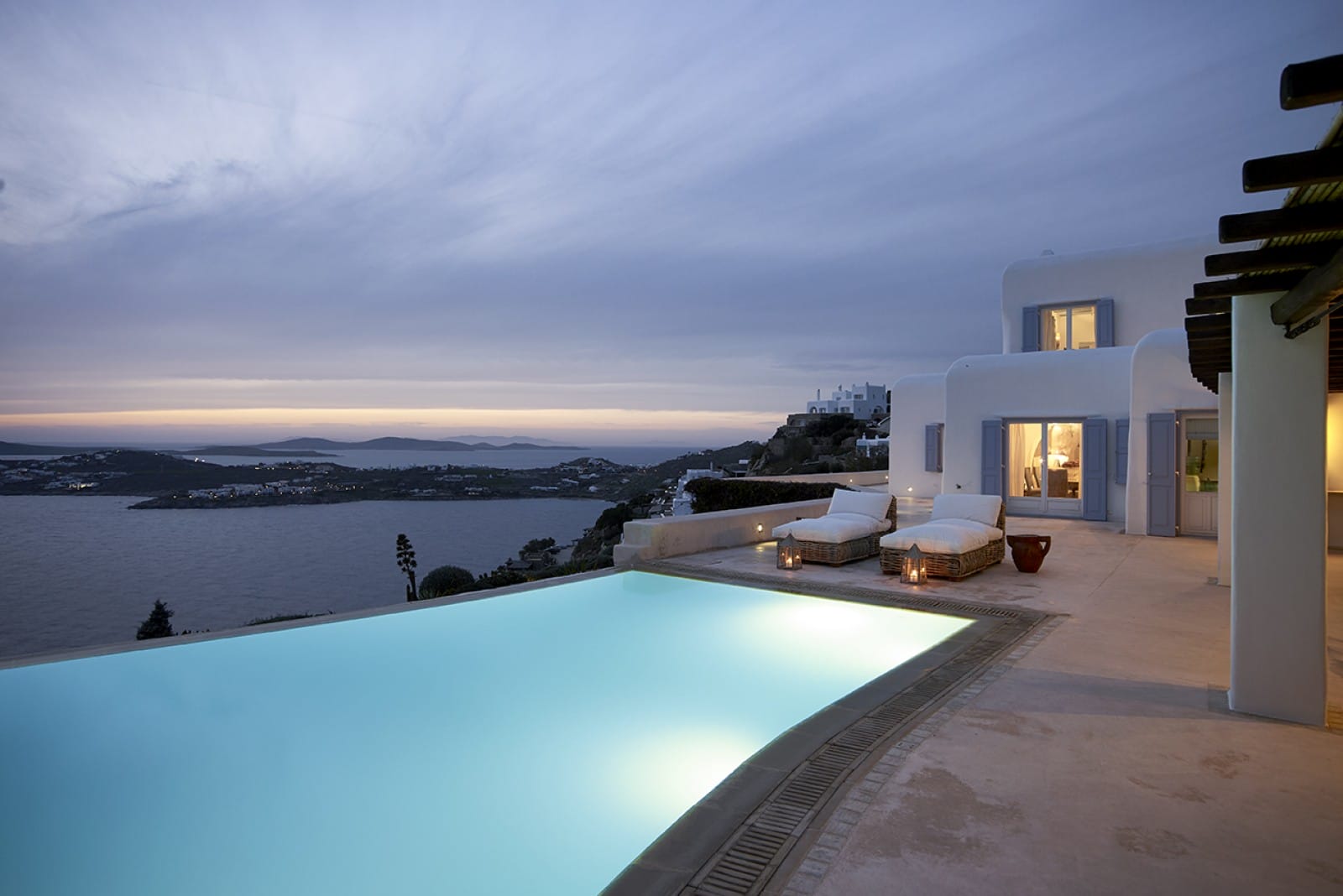 Villa Noir is perched on Agios Lazaros hill boasting uninterrupted sea and sunset views, a family-friendly villa, offering warm and welcoming indoor and outdoor areas. Villa Noir features all the comforts to experience a beautiful stay in Mykonos, including a private infinity pool, fluffy day beds, an outdoor dining area, a fully equipped kitchen, comfortable bedrooms, a large dining table, a comfortable living room area with sea views and a playroom.