Find the Best luxury villas for rent in Chalkidiki!
Discover the natural beauty, and the carefree sense that Chalkidiki is offering, while staying in one of our luxurious villas available for rent by Divine Property.
Chalkidiki is a unique region, situated on the north side of Greece, featuring beautiful forests and sandy beaches with clear and emerald green waters. 
The region of Chalkidiki, in central Makedonia, is an exceptional landscape of natural beauty with lush forests and beautiful beaches.
The impressive area of Nea Moudania is bathed by the Thermaic Gulf, whereas the areas of Kassandreia, Pefkohori, Nikiti, Neos Marmaras, Sarti, and Ierissos are bathed by the Aegean Sea.
Polygyros is the Capital of Chalkidiki.
Kassandra is a less crowded region, featuring great restaurants and taverns by the sea, night clubs and bars to explore during your stay in Chalkidiki.
The area of Sithonia offers excellent sandy beaches, a peaceful place to relax while enjoying your cocktail.
How to reach Chalkidiki:
The region of Chalkidiki does not feature an airport, whereas the closest airport to Chalkidiki is the Airport of Thessaloniki, in Thermi, a 62.5km drive to Chalkidiki.
Rent Chalkidiki Luxury Villas
Luxury Villas for Rental in Chalkidiki Recommended by Divine property
BEST PLACES FOR ENTERTAINMENT
Metochi
To Kyma
Trizoni Fish Restaurant
Cabana
Anchor Food Bar
Imeros Cocktail Bar
Notos All Day
Spitaki Cocktail Bar
Paralio Cocktail Bar
Orca
Leukiammos Beach Bar
Umbrellas Beach Bar
Navagos Beach Bar
Villas Seaside Lounge
Riviera
Hottest Month
July (30 oC avg)
Coldest Month
January (03 oC avg)
Wettest Month
December (131 mm avg)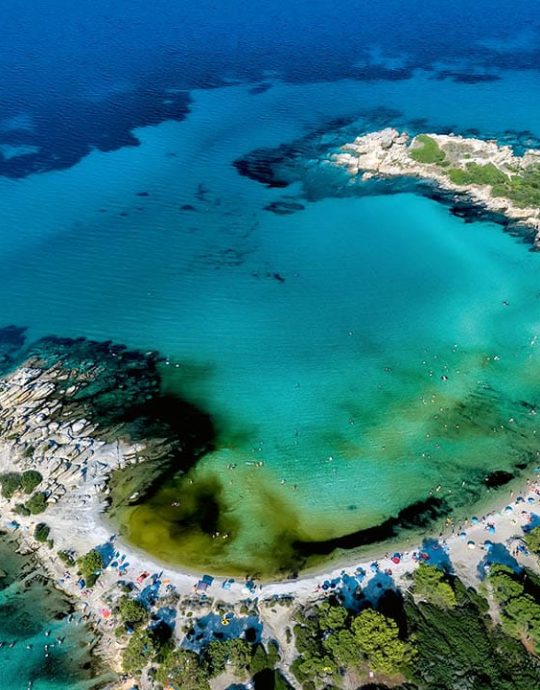 Must See & Do in Chalkidiki
First time in Chalkidiki ? this is some of the best sightseeing on the island you must see and do!
Looking to rent the best villas in Chalkidiki ?
Chalkidiki is a peninsula situated on the northern side of Greece, in Central Macedonia, an untouched region, offering gorgeous sandy beaches, with the bluest waters, with a fresh and clear atmosphere.
The region of Chalkidiki offers green forests, a  great natural landscape, and amazing sunset views.