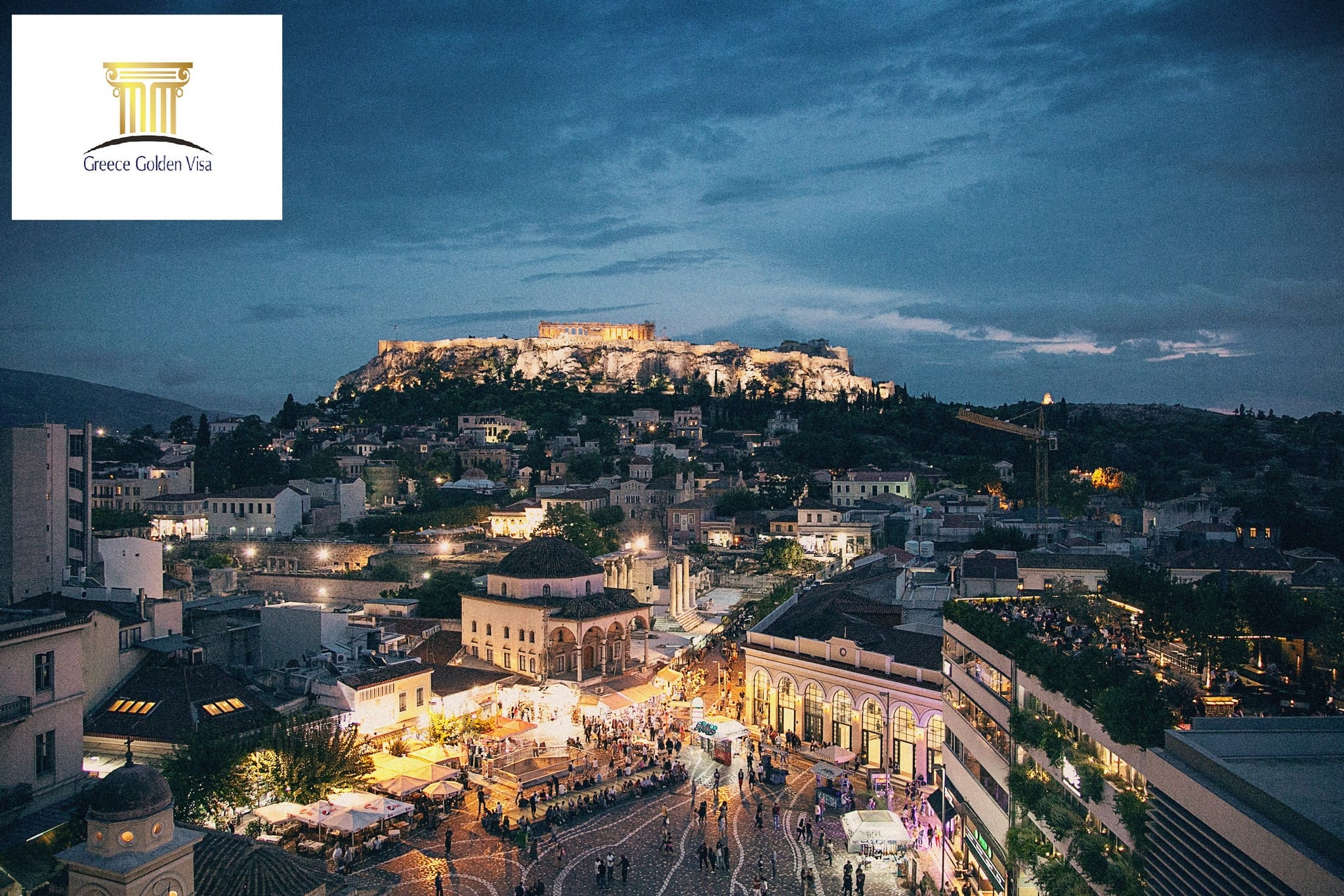 Greece's golden visa program, as we have already noticed in our previous article, was and remains one of the most successful interventions by the Greek authorities to re-energize investment interest in the national real estate market. Of course, this program is not something unique or innovative, as many counties have adopted similar practices in recent years. However, the two tables below are demonstrating why Greece's value proposition is by far the most competitive among European Union's and Schengen Zone's countries-members; and what is the value of buying an apartment in Athens and Thessaloniki in terms of the history, value of investment and the lifestyle they offer compared to major cities of Europe.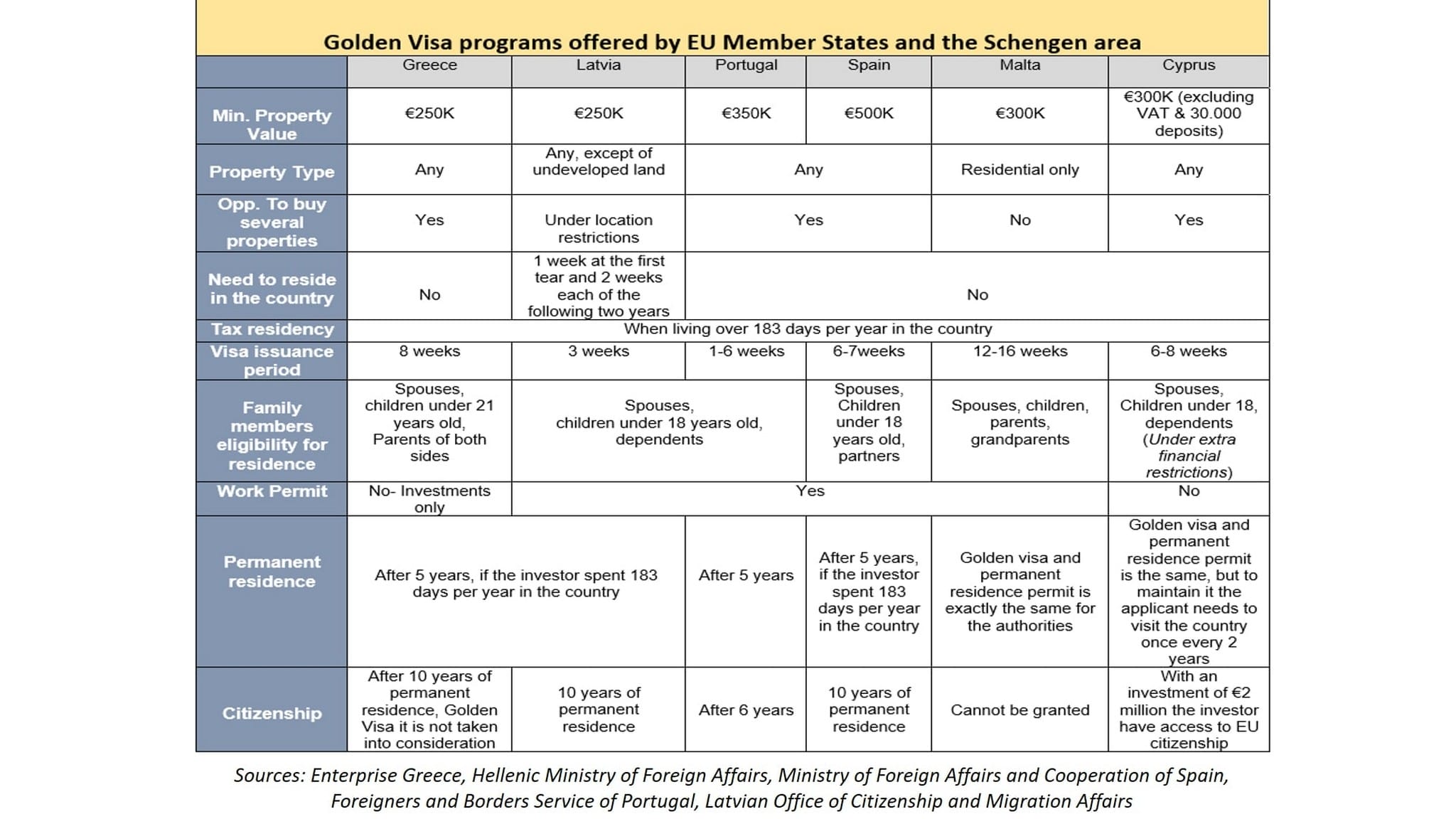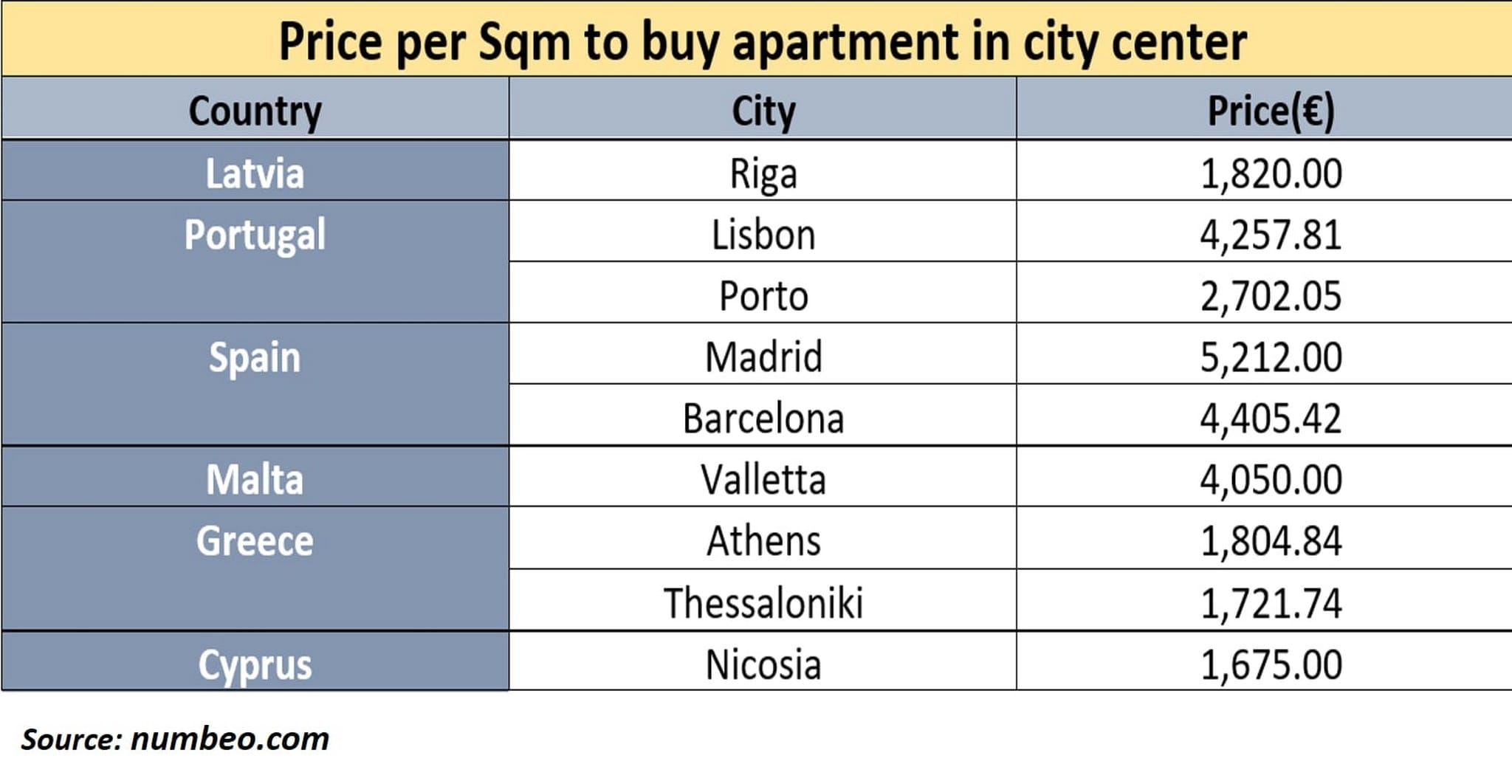 Greece's Golden visa program becoming even more appealing for international investors when they take into consideration information about other fields of the Greek economy that ad surplus value to their investment, such as the enhanced indices of tourism according to Bank of Greece and the over ward trend of short term rentals, mainly with the expanse of Airbnb platform.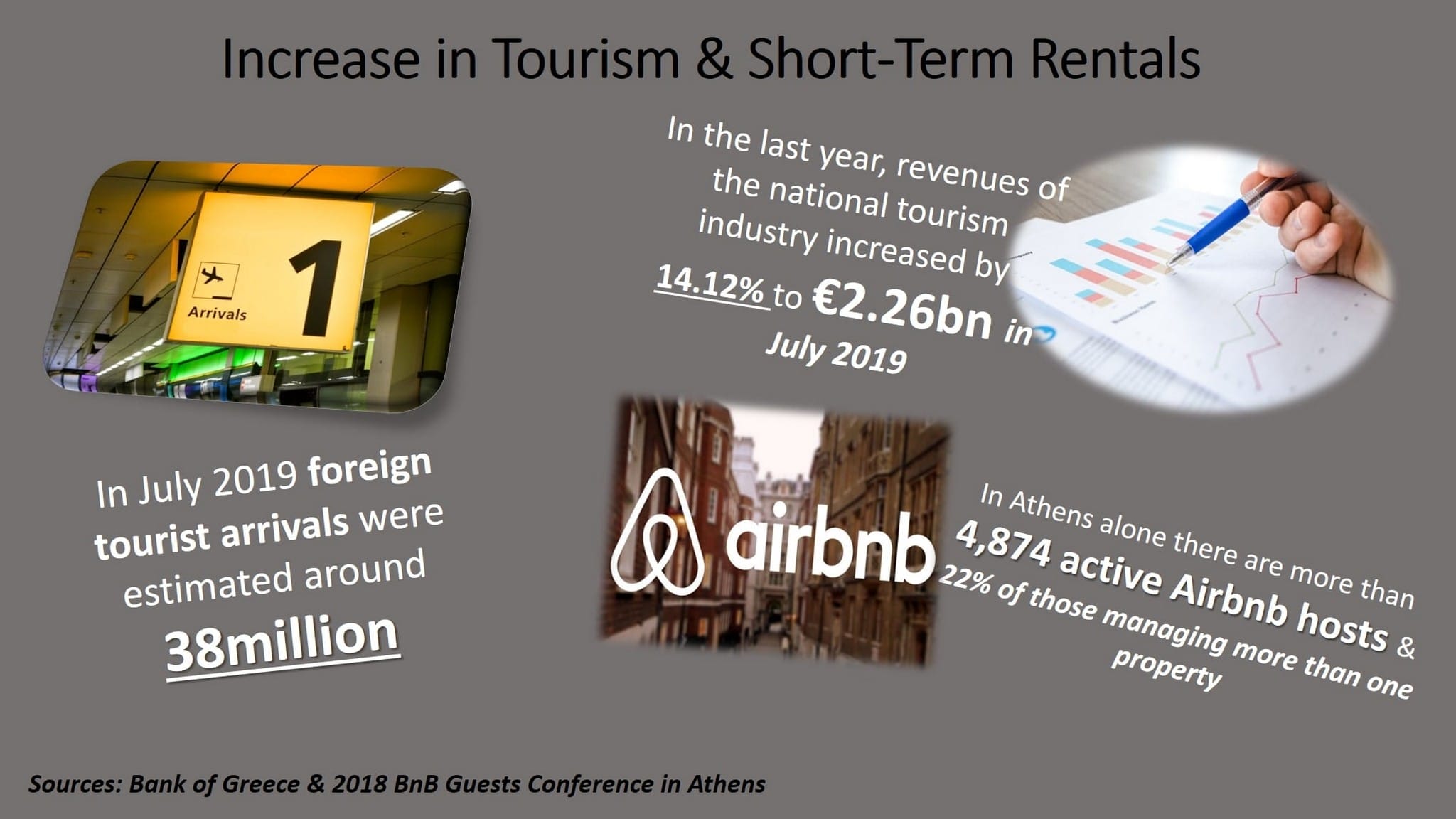 A Brief Introduction to the Program
The golden visa program was initialized at first by Enterprise Greece in 2014, and from that point and after it continues to have a positive impact in the real estate market.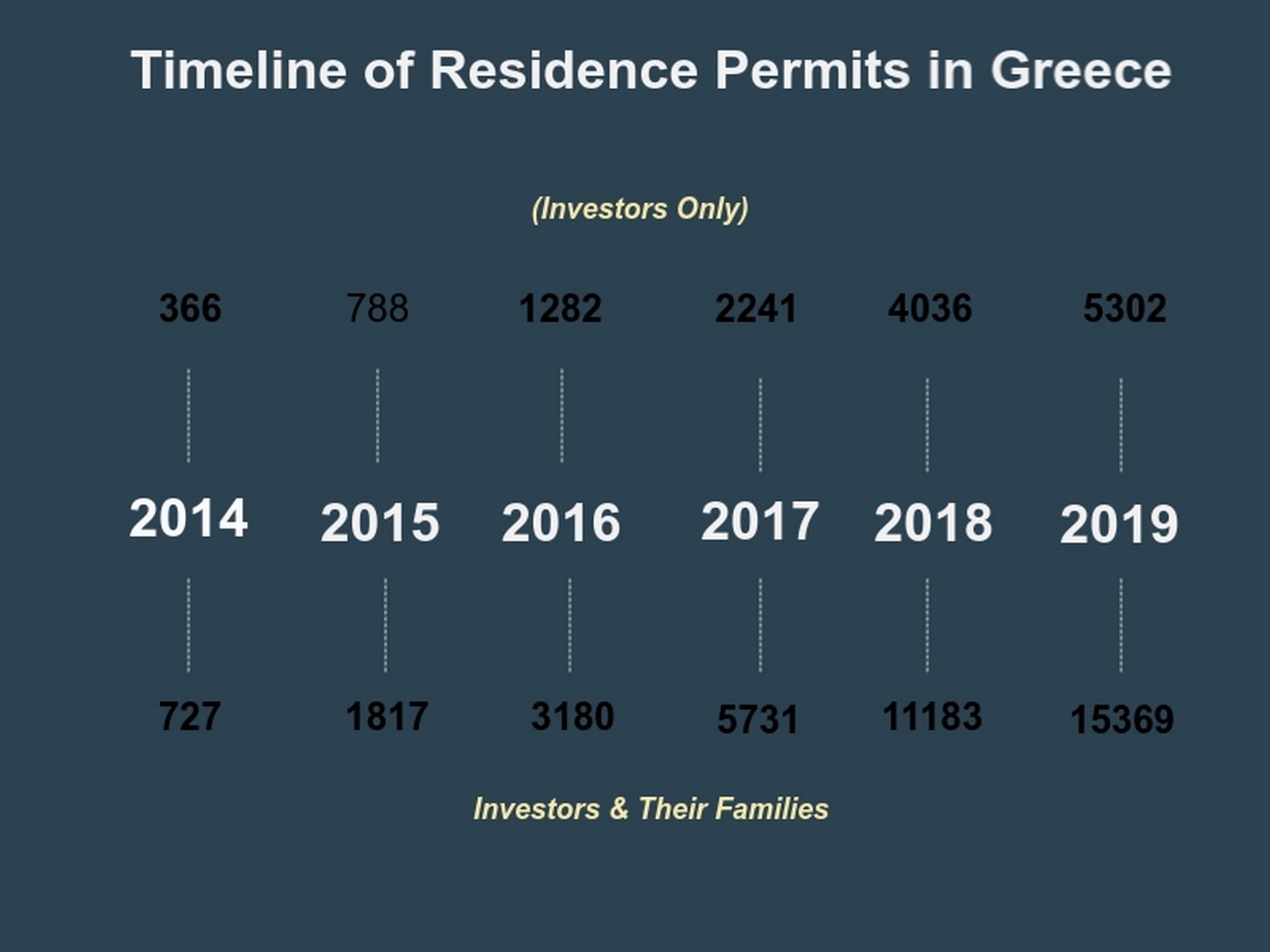 This concept can even be characterized as a "win-win" process that revolves around a simple exchange process. When an international investor spends €250K or more in a property in Greece, the authorities grant a five-year residence permit that can be renewed, if that investment is still beyond the prescribed time limit.
For international investors, this unique in term of conditions program (see table1), it can be a once in a lifetime deal, as it combines some incredible benefits that can be summarized within a few bullets:
It may be the key to acquiring Greek citizenship
Investing in a country where tourism and short-term rentals reach new heights every year, can be a huge earning opportunity
It's a family deal
Investing in a country where tourism and short-term rentals reach new heights every year can be a huge earning opportunity
….and can be better understood through the video following below:
The Impact of Golden Visa through the numbers
To better understand the impact of Greece's golden visa program on the real estate market and to better describe which international investors are most attracted to it, we must first present some interesting statistics.
From the first day of the golden visa program (2014) till September of 2019, the Greek Ministry of Foreign Affairs has issued 5,302 residence permits for property investors and over 15,639 for their family members. Equally interesting are the demographics of the golden visa recipients/investors, with the Chinese, Russians, and Turks partaking of the lion's share in a series of real estate investments exceeding €2.6 billion.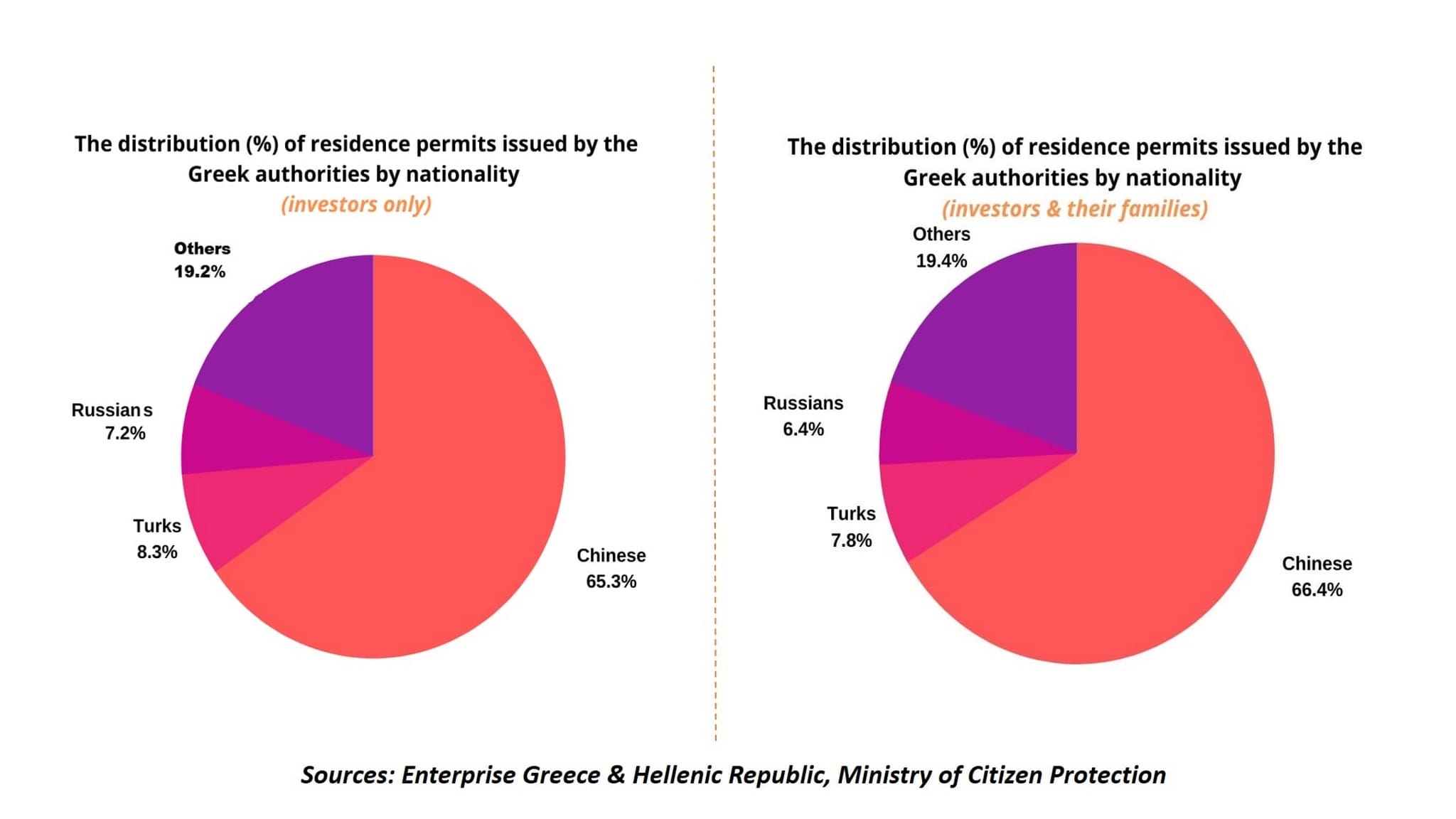 Regarding the geographical allocation of these investments, it seems that Athens – the capital of Greece and other urban areas such as Piraeus and Thessaloniki are the most attractive regions as well as some popular tourist destinations such as Crete, Santorini and Halkidiki (Polygyros).
Profiling of Chinese Real Estate Investors
According to the Vice President of the Hellenic-Chinese Chamber of Commerce, Nikolaos Yiannidis, more than 50% of total property investment is owned by the Chinese. The Chinese government's huge investments in Greek territory, such as Cosco in the port of Piraeus and others in areas such as transport and energy, have created a sense of safety for them.
It also claims that Chinese investors are taking full advantage of Greece's gold visa program, as they take care of their spouses and children. Besides, although investors face obstacles and difficulties due to the capital controls imposed by the Chinese government to control the outflow of funds, their interest remains strong, especially concerning real estate opportunities in the southern suburbs of Athens.
Profiling of Turks Real Estate Investors
In recent years Turks, due to the political situation in their own country and as they experienced a financial flourishing during the last decade have been converted to major investors in multiple sectors of the Greek economy. Until now, they have invested more than 400 million in tourism and tourist facilities. However, the devaluation of the Turkish pound generates problems due to the sharp increase in investment costs in the Eurozone countries.
Other Investors
Russians and investors from other nationalities such as Iraqis, Persians, Lebanese and Egyptians are characterized as individual investors.
Outro – Friendly Advice
Due to the increased demand for participation in the gold visa program, the Greek immigration authorities are now planning golden visa appointments 6-18 months in advance.
Since we do not want to present a "magical" situation, we must warn international investors that bureaucracy can delay their investment for up to 20 months, so it would be wise to work with specialized real estate agencies offering visa support, like us; also it would be better in some cases to apply to public offices outside Athens.