Syros is a top destination for buying a property in Greece. Luxury properties and villas, in privileged locations close to famous beaches and other attractions, are the ideal choice of investment. Syros is recommended for Golden Visa investments, as having high rental and re-sale value, as well as being an ideal vacation spot and a year-round living destination.
Elite villas and properties that combine tranquility and natural beauty, are a secure choise of investment and allows you to enjoy the benefits of the Golden Visa Program by gaining a permanent residence in Greece.
Fully equipped modern villas in unique spots all along Syros, promising to offer an unforgettable experience and a life-time home. The villas capture the spirit of luxurious island living, harmonically combined with the traditional and distinctive character of Syros.
Syros (also known as Syra) is located near the centre of Cyclades, in South Aegean. Some of its largest towns are Ermoupolis and Ano (Upper) Syros, with the first one to constitute the capital of the island, the Cyclades and the South Aegean.
Syros is gradually being considered as a popular destination as its neighboring islands, like Mykonos, Santorini or Paros, and becoming a compelling destination to invest, with an amazing selection of beautiful properties and luxury villas. A crowd- free and family friendly island, allows you to enjoy its luxurious comfort, with private residences all along the island.
Known for its culture and architecture, Syros is structured by impressive buildings, luxury villas and properties, grand churches, and monuments from the Venetian period, constituting an open-air museum. However the island does not lose its traditional aspect, with the remarkable Cycladic neighbourhoods and beautiful bougainvillea not to be missing from the scenery.
The varied attractions of the island and its unique location, makes it one the most competitive destinations for great investments. Ideal for alternative activities, exceptional gastronomy full of local delights, delicatessen and tasteful wines, Syros stands up to expectations of any guest. Its exceptional gastronomy is considered as one strong opponent against Mykonos and Santorini, since it is relied on local guests and only tourists.
Ermoupolis is a town unlikely any other in Cyclades. A cosmopolitan picturesque capital, bustling with life all year round, stands out for its Venetian architecture and the large port. Many foreigners chose to invest in Ermoupolis and live permanently there.An ideal destination for Golden Visa investments.
Through our divine Syros Villas for Sale you will be able to enjoy the astonishing view of the Aegean Sea and relax in the privacy of your private pool with your beloved ones.
Enjoy the privileges of a Golden Visa in Greece and live the experience of a unique Greek island.
Buy one of our divine villas in Syros and you will discover a hidden gem in the Aegean!
Here is a list of Villas for Sale in Syros Island: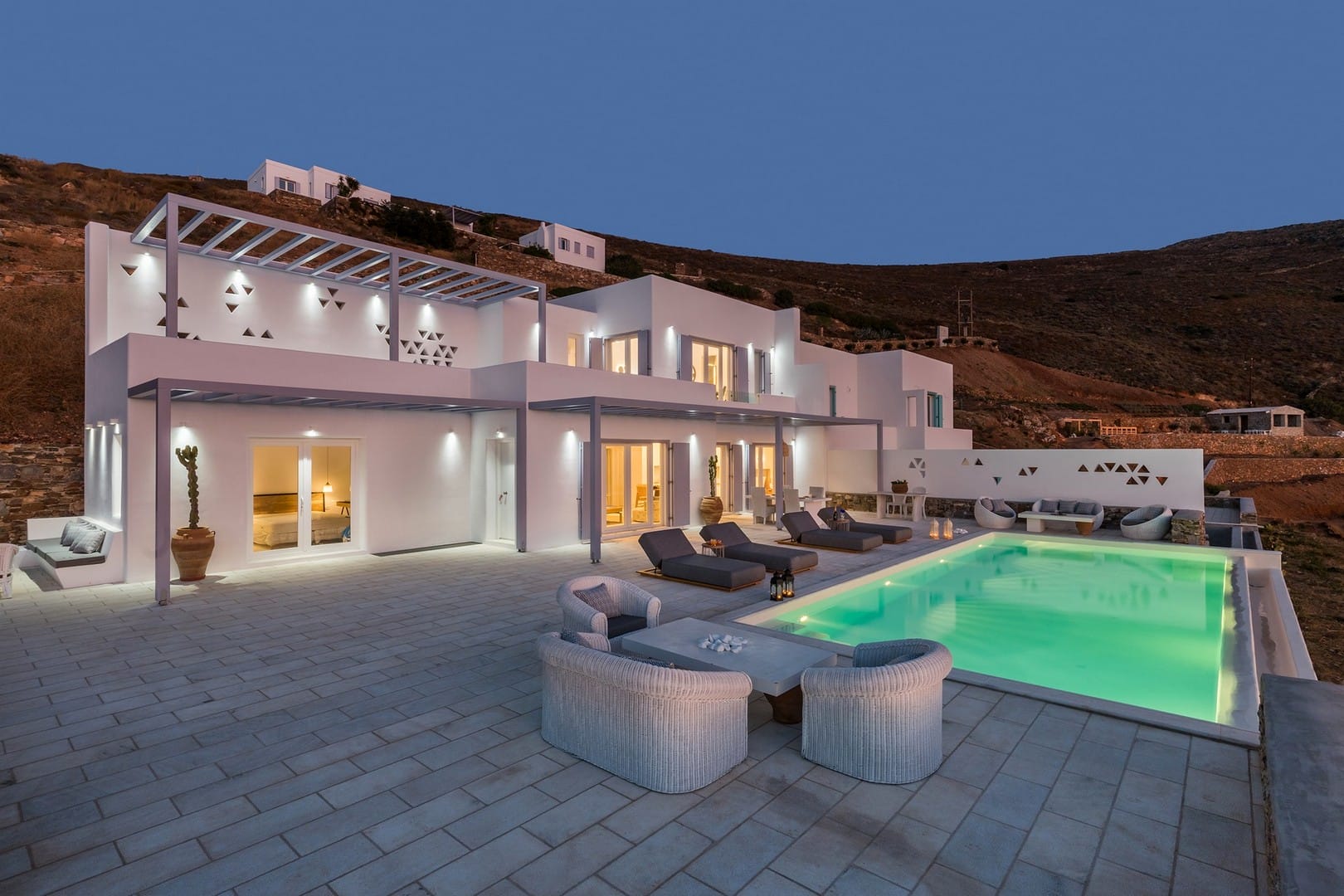 Villa Eclipse Cavo Fregada Syros, Harasonas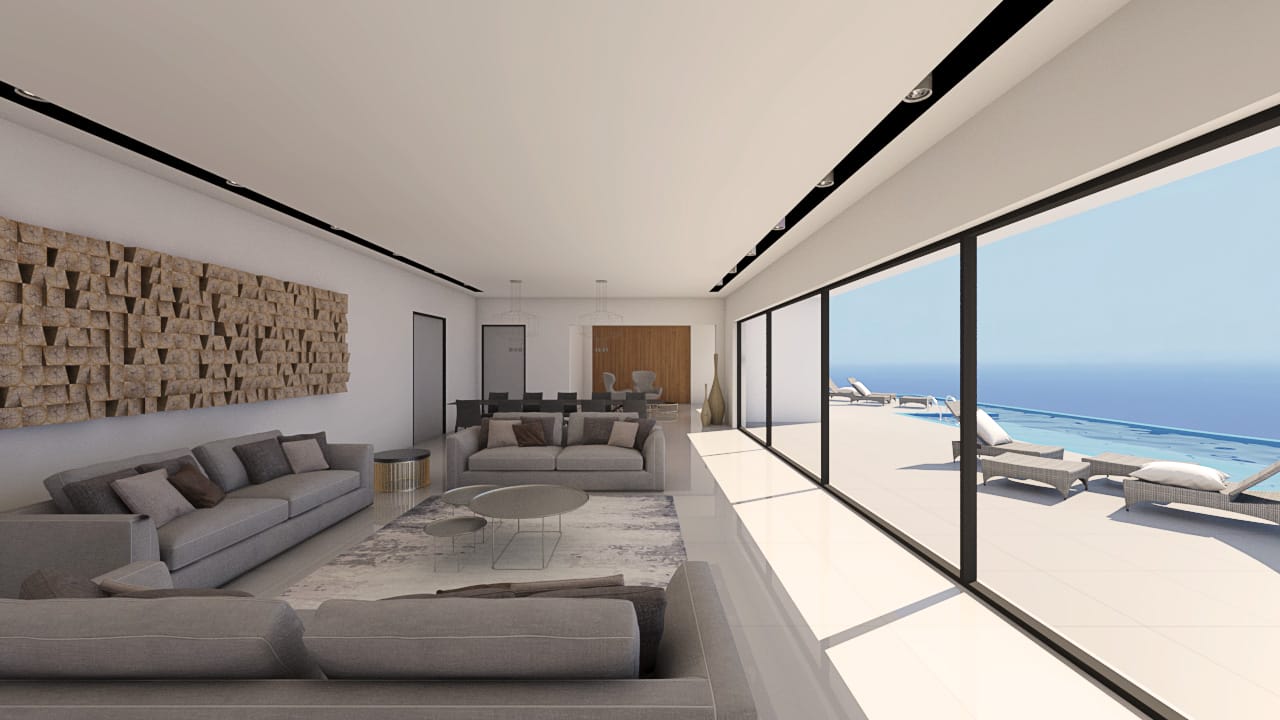 Cavo Fregada Seaside Hotels and Villas is a rapidly growing project under development by a dominant construction, hospitality and real estate group of companies based in Greece. Merryland S.A. and itssister company Greek Traditional Homes S.A, are part of a leading grouo of companies in the hospitality and real estate industries and have successfully undertaken numerous high-profile projects among which is the development of two luxury complexes of more than 60 villas in the island of Mykonos some of which were sold and the remaining are exploited through our prominent real estate company Divine Property S.A.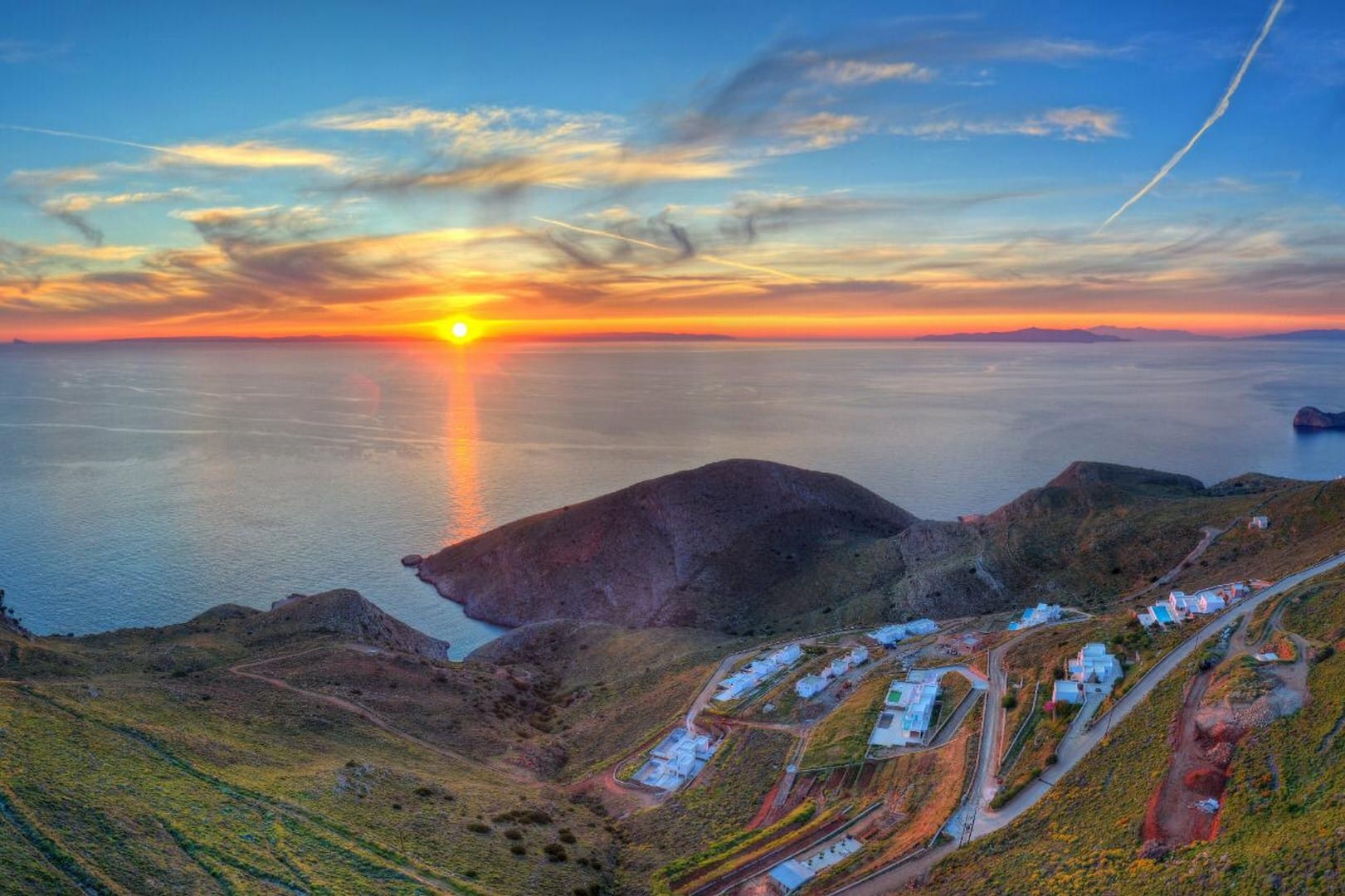 Castro Hotel Syros is a luxurious 5 Star Hotel, perfectly located in the heart of Ermoupolis town on an exquisite historical building. Castro hotel Syros was completely renovated in 2021 with its historical elements carefully restored to welcome its refined guests to an accommodation experience of luxury and bliss. Its luxury 9 rooms feature a sophisticated design, with a neoclassical architecture. Open its doors on April 15th, is waiting for you to discover this rare and historical property, located in the heart of Syros.